Volunteer Internship Program
What is Arise (Warrambui Volunteer Internship Program)?
ARISE is Warrambui's 12 month Volunteer Internship Program. It is designed for young adults who are looking for a growth opportunity while they are transitioning between school and what lies ahead. Arise focuses on building a faith foundation that is grown by living and serving in an authentic Christian community. Whilst volunteering time to serve at Warrambui, the Interns build their character, further discover their identity in Christ, and explore questions of faith in a supportive Christian environment that will give them a solid grounding for whatever lies ahead.
History

Warrambui was the first Lutheran Church campsite in Australia to establish an intern program in 1992. Since then, over 100 young people have come here to volunteer, serve, complete the year-long program and be empowered to impact the world for Christ. The program has seen great amounts of growth and success over the years with up to six interns participating each year.
A vast amount of interns come here with an already sound faith, but the environment and community atmosphere provide the opportunity for them to grow to a new level in spiritual maturity and have their feet firmly planted on Christ the rock. When they leave in December, Warrambui's hope is that they will be ready to display God's glory wherever he calls them, and into whatever vocation he is preparing them for.
Why become an Intern?
Arise is a year of service and opportunities for growth while being open to God's voice and hearing His direction and leading. It's an opportunity for you to focus on and imitate Jesus ministry by living in an authentic Christian community and enjoying the blessings that community life brings. Interns experience practical aspects of ministry, by learning to serve Jesus, each other, and also learning to love others we don't normally associate with. It will also give you an experience of hands-on camping and youth ministry, and provide a taste of ministry and theology studies as you journey with other like-minded young adults as we serve at Warrambui together. The level of growth you experience during the year is up to you and how much effort you are willing to put into it.
What does an Intern year look like?
The primary focus of the program is to grow disciples of Jesus by experiencing life in a Christian community. Throughout the year we intentionally seek to build a faith foundation that will grow the Interns' Christian faith and character which will be valuable to them and the communities they are involved with after Warrambui.
To achieve this goal we have three core elements that help grow the Interns.
Volunteer service tasks to Warrambui (e.g. Kitchen work, Cleaning, School Programs)
Study units towards a Certificate IV in Christian Ministry and Theology
Personal growth and Leadership Development through involvement in youth camps, youth groups, congregational visits, and team times.
Warrambui has been described by people within Lutheran churches in NSW as a close example of a real church. In our community, there is a safe, caring, supportive, attitude where God's Spirit touches lives. Being part of an authentic Christian community doesn't mean things are always rosy, but we continue to praise and thank God for the tough times to grow and work through the differences in people's behaviours and attitudes.
Who do the interns work with?
To guide you and assist you as you serve at Warrambui there will be; a Ministry Coordinator, Operations Manager, Office Manager, Catering Manager, Maintenance Manager, and casual cleaning and kitchen staff. Staff live both on and offsite.
The Ministry Development Manager is employed to guide and support you along the journey of the Intern year. By becoming an Intern you are welcomed into an established Christian community. Our Ministry Development Manager and Operations Manager live onsite with their families as well as our cook and other kitchen and cleaning staff.
What do we look for in an Intern?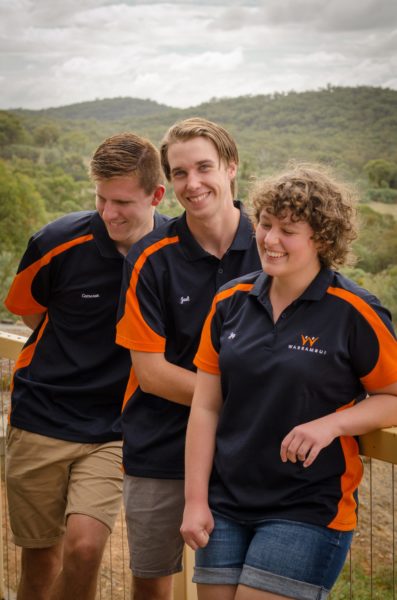 We thank God for the diverse people He sends to us. We look for young adults (18+) who have a passion to grow, a heart of service, and a desire to learn and be the best person they can be. We also look for people who have a teachable attitude, a good work ethic and a desire to know Jesus more.
All Staff and Interns that live on-site at Warrambui are expected to live together displaying Christian morals and practices, individually and towards each other. Living and serving together in a close Christian community creates an atmosphere of accountability and responsibility towards each other and our guests.
GET IN TOUCH WITH US
Want to find out more about the Arise Internship Program? We'd love to connect with you. Just fill out the form on the left or contact us via the details below so that we can get in touch and send you an info pack.
If you are a church or work with young people and are wanting to contact our Ministry Development Manager, please use the contact details below.
CONTACT DETAILS
Email: ministry@warrambui.com.au
Phone: 6220 1000