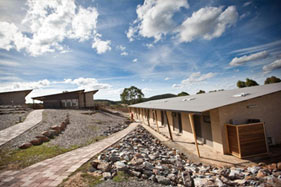 We know how much there is to see and do in the National Capital or nearby snow fields.
So at Warrambui, we make sure your school group sets off refreshed and refueled, armed with packed lunches and snacks for a big day of Canberra discovery.
We welcome you home each evening with a hearty meal, tranquil surrounds, and a comfy bed.
Convenient and Beautiful Location
We are situated 40 minutes north of the centre of Canberra and closer to North Canberra attractions such as the AIS and Cockington Green.
We're perfectly located for those travelling in via the Barton Highway to greet you on your way in to Canberra, and give you a head start on your bus trip home.
The trip into Canberra gives teachers the opportunity to brief students on the day's activities, and the trip back provides the chance to wind down after a full day.
Our tranquil and spacious environment is perfect for students to unwind or run off some steam away from the distractions in the city.
Accommodation
We offer two distinct accommodation options that are school-friendly, helping both students and teachers get a good night's rest.
The Dome is our unique circular building with dorm-style accommodation, where all rooms are accessed from a central space. The Dome sleeps a total of 85 people, including one ensuited teacher's room. The Cube is adjacent to the Dome and has 11 beds, all ensuited, for additional teacher accommodation. READ MORE
The Village Conference Centre has 22 ensuited units sleeping 2-6 people each for a total of 116 beds. The Village also offers a large conference room, a dining room and multiple lounges. READ MORE
All facilities are fully air-conditioned. Larger groups are able to book our entire site & utilise both the Dome and Village facilities.
Teachers stay free at a ratio of 1:10 students, and we provide complimentary food and accommodation for coach drivers.
Catering
Our catering team create hearty, nutritious and delicious meals and snacks to keep you fuelled for your entire stay. A rotating menu ensures variety and we cater to any special dietary requirements our guests may have.
Groups traveling to Canberra are able to take packed lunches with them and for dinner we can arrange meals to be delivered to you offsite, if arranged in advance.
Fully flexible programs and activities
In addition to your visit to National Capital attractions, Warrambui's friendly staff can also run supervised day and evening programs, such as campfires and night bush-walks.
We'd love to talk about how our onsite programs can complement your excursion itinerary.
Further information
If you'd like further information about staying at Warrambui for your next school camp, please fill out an enquiry form or contact us directly by phone or email on 02 6220 1000 or bookings@warrambui.com.au.
We look forward to your visit!