Recreation
Facilities • The Dome • The Village
Basketball
Two basketball courts are available for any hard court games. The courts are set up for either basketball or netball.
---
Beach Volleyball
The beach volleyball court offers team challenges and coordination or just the fun of building sandcastles.
---
Grass Area
Our large grassed area can be used for group games and activities needing space and the ability to run off some energy.
---
Bush Walks
Our bush walks continue to be developed and offer a great way to explore some of the beauty of Warrambui. There are two main trails available.
The Cross Walk is a 20 minute walk and is reasonably easy to manage. Set up as an Easter Stations of the Cross walk, the track lets you explore the bush and take in nature.
The second walk will take approximately 60 minutes and is more challenging. It takes you through pine and gum forest areas to a spectacular lookout and back through valleys and open spaces. Seats have been placed along the walk to enable you to enjoy the peace and quiet or catch your breath!
A map of the walking trails is available.
Guests are welcome to explore other areas of the 120 hectare site to find hill tops enclosed by gum forests, spectacular views of the Yass River Valley or hidden secluded areas.
* Use of the trails are not permitted in temperatures over 35 degrees.
---
Meeting Areas
Seven outdoor meeting areas are located in quiet areas around the site. Up to twelve guests can be seated comfortably while enjoying the outdoors. The seating is set so that groups can function and feel part of the team.
---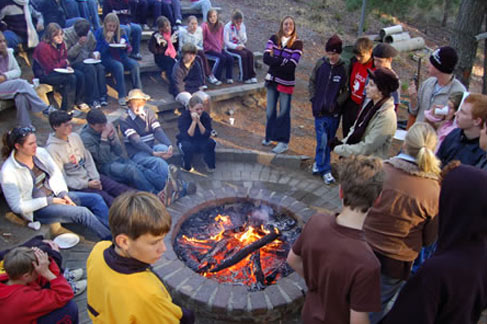 Campfire
The tiered Campfire is a wonderful place to light a fire and enjoy toasted marshmallows. Many a group has fond memories of sitting around the fire, singing along to songs lead by our Interns and staff. It's also a great place to cook sausages and damper in the non-fire season!
---
Programs
Warrambui has a range of outdoor programs run by our staff. Click here for more information on the programs we can organise for you.
---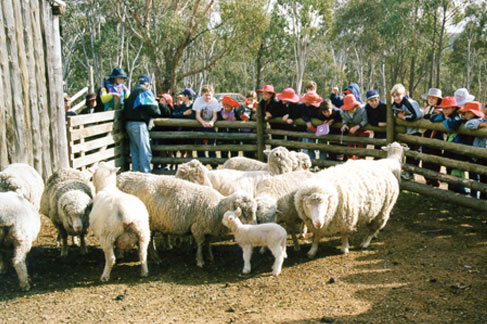 Shearing Shed
The Shearing Shed is an original building that was shifted to the Warrambui site in the late 1980's. The shearing shed seats up to 60 adults and is used for a variety of activities including:
our school shearing program
a chapel for worship or a meditation space
a rustic meeting area for conferences
The character of this building makes the seating worth the effort! A building nestled at the top of a paddock with a gum forest backdrop, full of authentic Australian charm.